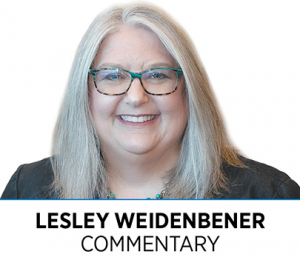 Lesley Weidenbener: Here's a little idea for the Circle Center Mall
A casino. A target. Condos. School. Green area. These are just a few of the ideas that IBJ readers have suggested for reimagining Circle Center Mall downtown.
Of course, ideas are more nuanced than a single word. Or most of them are. And we are always collecting suggestions. So head over to ibj.com/circle-centre-ideas and let us know how you think Circle Center Development Co., the company that owns the mall, should update the space.
There is nothing official in our ideas collection. Circle Center Development didn't ask our opinion (and I don't think they should), but in the coming weeks we'll be sharing more of what you came up with.
But by reading other people's suggestions, I found my own idea which I hope will help you to boost your creativity. My idea is just for a small part of the space. It is not an overall plan or even a strategy. And, actually, it doesn't have to be at the mall, but it has to be close enough to the Indiana Convention Center for visitors to stumble upon.
I delay explaining it because it has no name. Museum of museums? Mini museums? A museum visitor center? Anyway, here's what I think.
Let's create a place where downtown visitors can get a taste of what the city's museums have to offer, and then, if those visitors want to see more of a museum, we help them get there.
I'm thinking of a space that somewhat brings together this museum and that one.
Imagine a place where the Indianapolis Motor Speedway Museum could rotate some of its collection: a car that won the Indianapolis 500 in the 1930s, trophies from early races, maybe a race car or two .
Next to it, there might be paintings and sculptures from the Eiteljorg Museum of American Indians and Western Art. And next to that might be a collection of dinosaur bones from the Children's Museum of Indianapolis. And next to that, pieces from a special exhibition at Newfields. You had the idea.
These would be rotating exhibits, professionally designed and curated, mini-collections from area museums and historic sites, including the Indiana State Museum, Conner Prairie, Museum and Library Kurt Vonnegut, etc.
The goal would be to offer a sample that is intriguing enough for a visitor to want to see more. And the key would be to make it easy for those visitors to buy tickets and get to the museum they find most interesting. Perhaps there is a shuttle that runs regularly between sites, or a form of transportation that can be called upon when someone needs it.
It could even become a location for an exhibit that spins Jim Irsay's collection of cultural memorabilia or even a small permanent Irsay museum. He is looking for a place to create a museum; this could be a way to do this in a cost-effective way, while incorporating collections from other sites across the city.
Are there any problems with this idea? For sure. Who would lead it? How would it be funded? Would it siphon off guests who would have visited all the museums on their own? These are important questions that need to be answered.
More importantly, I am convinced that there are much better ideas out there. So let us know what you think and we'll start sharing some of your ideas in IBJ as well.•
__________
Weidenbener is editor of IBJ. Email him at [email protected]